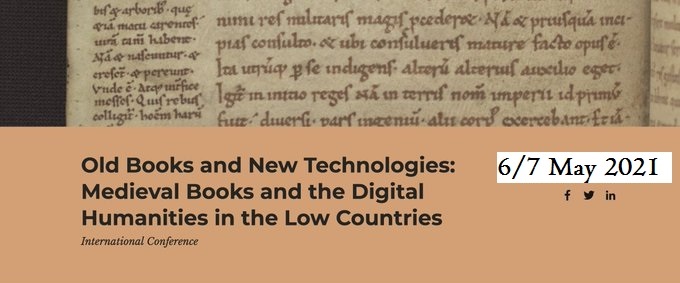 ONLINE COLLOQUIUM
"Old Books and New Technologies: Medieval Books and the Digital Humanities in the Low Countries"
Thursday 6 May – Friday 7 May 2021
On 6 and 7 May 2021, KBR, in partnership with the Campus Condorcet of Paris, the National Library of Luxembourg, the KB national library of the Netherlands, the universities of Ghent, Leuven, Liège, Mons and Namur, and the Vlaamse Erfgoedbibliotheken, will be holding an international conference on medieval books and the digital humanities in the Low Countries.
It will bring together representatives from libraries, museums, archives with researchers interested in the 'medieval book and new technologies'. Particular emphasis will be placed on the methodological dimension of the use of digital humanities.
Working languages will be English, Dutch, and French.
Registration and programme
Contact
Pages
Auteur du blog : Jean-Luc DEUFFIC
Visites depuis 10/03/2020
Evangeliaire breton (Boulogne-sur-Mer, BM, ms 8)