Voir les articles dans "Vente, auction"
Bloomsbury Auctions, Inc., New York présente à la vente (sur Ebay) plusieurs précieux manuscrits, dont un exemplari, origine France, copié par un Karolus. Il s'agit peut-être de Charles, copiste cité par R. H. Rouse & M. A. Rouse, Manuscripts and their makers, II, p. 21, comme étant censitaire en 1285 de Saint-Merri. J'ai moi-même lu ce nom dans le Paris AN S 1626/1 qui est un censier de l'abbaye Sainte-Geneviève, daté de 1276: Karolus scriptor (in bordellis)
Les exemplaria servaient de modèle aux copistes et étaient loués pièce par pièce.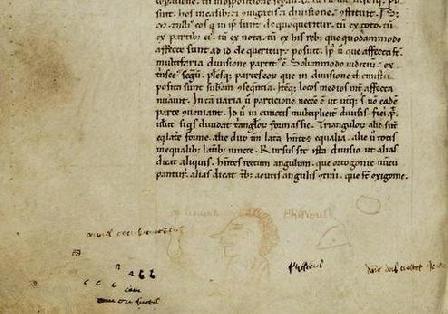 [Lot 3B] ARISTOTLE. [Organon.] Composite manuscript on vellum, containing: PORPHYRY. Isagoge; ARISTOTLE. Categoriae, Liber peri hermenias [De interpretatione]; BOETHIUS, Anicius Manlius Severinus. Liber de divisione, De differentiis topicis; ARISTOTLE. Liber topicorum, De sophisticis elenchi, Priora analytica, Posterioria analytica, in Latin. France: mid- and late 12th century and early 13th century]. Decorated manuscript on vellum. 173 ff., complete. Collation: 114 2-68; 7-108 116 125 (of 6, f. 12/1 blank removed); 13-146 158; 16-198; 20-228. Detailed contents: Porphyry, Isagoge ff.1-4 and 11-14v (ff. 5-10v a second copy inserted in the middle of the first gathering); Aristotle, Categoriae ff. 14v-25v; Aristotle, Liber Peri hermenias ff. 25v-31v; Boethius, Liber de divisione ff. 31v-38v; Boethius, De differentiis topicis, books I-III, ff. 38v-53v; Boethius, De syllogismus categoricis, opening sections only, ff. 53v-54v; Aristotle, Liber topicorum ff. 55-97 [a blank leaf, the pair to ff.55, has been removed from the end of this section but there is no gap in either this text or the following]; Aristotle, De sophisticis elenchis ff. 98-117v; Aristotle, Priora analytica, in the Chartres recension ff. 118-149v; Aristotle, Posteriora analytica ff. 150-172v; notes on humors and brief quotations, additions in a 15th-century hand, ff.172v-173v. Six discrete text blocks (200 x 135 mm. and smaller), each ruled in a different pattern of between 29 and 38 lines, written in dark brown or black ink in different small proto-gothic or gothic bookhands. Opening initials of pale red or brown and red, diagrams in text on ff.132v and 138 and in margin of f.3, extensive marginalia in various hands, ranging from detailed explanatory text and diagrams to informal marginal sketches. Modern blindstamped calf over 15th-century bevelled wooden boards, 15th-century French manuscript deed on vellum (written on recto of a folded folio leaf), formerly used as pastedown, at end. Condition: a few wormholes in first leaves, rubbed or stained with some loss to text of ff. 1 and 2, f.106 with repair crossing text, vellum repairs to lower corner of f. 11, outer margin of f. 74 and lower margin of f. 91. Provenance: The individual text blocks are all in French hands, and several of the annotations are in French, providing evidence that the collected manuscript remained in France. Many of the marginalia are seim-effaced A few are dated to the mid-13th century (1240 and 1269). Some of the annotations are unrelated to the text, transcribing for example, the opening of a letter, or recording the receipt of a mattress, but one note, on f. 117v, records payment to a scribe and may relate to the manuscript's production (Mag[ist]ri karoli scriptoris p[ro] exemplari. ii sol[idi]) (1). — The manuscript deed that was used as a pastedown, dated 1407 and relating to a marriage settlement of Johanette, daughter of Jehan, living at \"Poulorgny,\" suggests that the manuscript was still in France when it was rebound in the fifteenth century. — Count Oswald Seilern (1901-1967, booklabel, sale Christies London, 26 March 2003, lot 3). A remarkable composite manuscript, consisting of a compendium of discretely produced manuscripts, originally from more than one codex, that were assembled in the 13th century to provide the entire corpus of works that make up the Aristotelian Organon (\"The Instrument\"). Organon was the name given by his followers to Aristotle's six works on philosophical logic, accompanied by Porphyry's introduction (Isagoge) and the commentaries by Boethius, through whose Latin translation the works were rediscovered and disseminated throughout medieval Europe. This corpus became the basis for the study of logic and the determining influence on scholastic thought. the assemblage of all of these texts in this thirteenth-century volume provides valuable evidence of the revival of interest in and circulation of the fundamental texts of Antiquity during the in the 12th and 13th centuries. The composite nature of the manuscript mirrors the incremental rediscovery of the Aristotelian corpus during the \"Renaissance of the twelfth century\": the first section contains the works subsequently known as the logica vetus, written in a particularly fine and elegant hand, apparently in southern France in the middle of the 12th century. The quality of the penmanship in this section may have been the inspired the addition of the other texts and possibly ensured the preservation of the volume as a whole. The remaining texts contain the other logical texts of Aristotle, which became known as the logica nova, as they were only recovered in the course of the 12th century. It is not clear whether these other texts were added in a single campaign at a later date, although this seems unlikely, but it is evident that some attempt was made to give them a more uniform look by the addition of the pink-red initials and occasional paragraph marks. The annotations and marginalia attest to the manuscript's extensive use by various readers from the 13th century and later. Precise clues as to provenance are scarce, most names being illegible or incomplete. The notes include erudite explanatory text and logical diagrams, including one, in a 13th-century hand, which schematically depicts Porphyry's questions on the status of \"universals\" (the problem that brought forth scholasticism), as well as frivolous sketches: at the foot of f.51v is a labeled sketch of a physician holding a urine bottle, and in the outer margin of f.109 a knight astride his horse. Medieval Aristotle manuscripts of this quality and early date appear rarely on the market.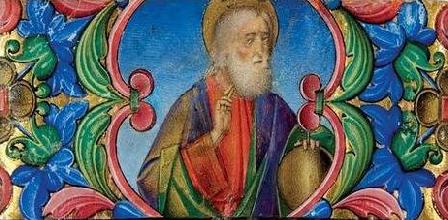 Lot 16b: North Italy, Lombardy?: early 16th century
An abbacus manuscript, in Italian. Decorated manuscript on vellum. [Italy], 1419. Signed and dated by the scribe, Joh[ann]es de Strasburg, 18 April 1419. 47 leaves: [19 2-48 56 68]. Possibly incomplete at beginning. Written in brown ink in a small upright cursive, single column, up to 51 lines (variable), section headings and paragraph marks in red, marginal initial capitals and table headings with red capital strokes. Catchwords in center of lower margins on final versos. Ten pages with geometrical diagrams (circles and triangles). Signed and dated at end \"facto e chompiuto adi 18 April 1419 / [in red] Qui scripsit scribat et sember cu[m] d[o]m[i]ni vivat / Amen solamen Steyg der blin uff den lamen / Joh[ann]es de Strasburg\". Modern black goatskin. Condition: First leaf wrinkled and with large stain obscuring one to two words each from 7 lines on recto, occasional small stains Provenance: \"Piero (?)Strozzo,\" contemporary ownership inscription at end (of a member of the Florentine banking family?); several illegible or partly eradicated early inscriptions on final verso. — Later manuscript notes with geometrical diagrams on 5 leaves at end. a very fine example of a \"trattato dell' abbaco\" or italian pedagogic manual of commercial mathematics, accounting and geometry. Beginning in the thirteenth century the rise of international trade and banking companies in the Italian city-states prompted the formation of vernacular schools in which commercial mathematics, accounting and writing were taught to sons of the merchant class. This was a radical departure from the humanist educational curriculum, which, if it included mathematics at all, was limited to classical or medieval Latin mathematics – algorisms for determining moveable feast days in the church calendar, or Euclidean geometry. Known as abbaco, this practical course of mathematics was recorded and transmitted in manuscript books, of which several hundred are known to survive, all in Italian, and the vast majority in institutional collections. Long thought to be abbreviated vernacular versions of the Latin Liber abbaci of the 13th-century mathematician Leonardo Fibonacci, an encyclopaedia of practical mathematics, these abbaco manuscripts, of which the earliest dated example is from 1290, may in fact derive from a more widespread culture of commercial mathematics, already known by Fibonacci, and probably flourishing in Provence and/or Catalonia before reaching Italy. From the fourteenth to the sixteenth century so-called abbaco schools flourished throughout northern Italy, in different forms, with the Florentine version being a separate two-year course of study administered to boys aged 11 to 14, while other towns integrated the abbaco teaching into the vernacular schools. The present manuscript opens with problems of addition, multiplication, and division, including fractions. (\"Abbaco books. did not usually explain addition and subtraction, probably leaving this to the teacher to do\" – Grendler, p. 313). It proceeds quickly to \"the heart of abbaco. solving the mathematical problems of business. The ordinary abbaco book might contain four hundred problems and their solutions, of which the largest group by far were business problems (op. cit., p. 314). This manuscript is no exception. The many problems, most presented in a literary, story-telling form that is typical of the genre, relate to commercial arrangements, payment of merchandise, commercial partnerships, measurements and weights, money exchange, etc. Several schematic tables show how to calculate distances; others show different accounting methods or methods of calculating interest. A few other problems are of the \"recreational\" sort described by Grendler, designed to exercise purely mathematical skills. The final section, illustrated with neat diagrams, is devoted to practical geometry. Like all abbaco manuscripts, this one contains a trove of information on late medieval Italian commercial practices. The fact that the manuscript is signed and dated adds to its interest and documentary value. The concluding jingle of the scribe Johann from Strassburg is written in an unusual mixture of Italian and German. Written in the lower margins in a seventeenth- or eighteenth-century Italian hand, the later notes testify to the manuscript's continued use two or three centuries after its production. Abbaco manuscripts appear very rarely on the market. Cf. Paul F. Grendler, Schooling in Renaissance Italy (Baltimore & London 1989), chapter 11, \"Learning Merchant Skills\"; Warren Van Egmond, Practical Mathematics in the Italian Renaissance: a Catalog of Italian Abbacus Manuscripts and Printed Books to 1600 (Florence 1981). Cf. Paul F. Grendler, Schooling in Renaissance Italy (Baltimore & London 1989), chapter 11, \"Learning Merchant Skills\"; Warren Van Egmond, Practical Mathematics in the Italian Renaissance: a Catalog of Italian Abbacus Manuscripts and Printed Books to 1600 (Florence 1981).
ILLUMINATED MANUSCRIPT LEAVES , France,15th Century. Three leaves from a noted Missal , in Latin, on vellum. [France, ? Britanny, c. 1430s]. each (310 x 230 mm). Double column, 30 lines in black ink in an upright gothic bookhand between 4 verticals and 31 horizontals ruled in grey, one leaf with respectively 9 and 10 lines of musical notation on verso, in square neumes on four-line red staves. Rubricated in red, one heading in gold. Guide letters for rubrics in margins. Numerous illuminated initials in various sizes: three large initials in blue or red on burnished gold grounds with red or blue infill and white penwork decoration, 43 three- to one-line initials in gold on blue and red grounds and with gold, blue and red foliate infill, three line-fillers or Greek crosses in blue or red on gold grounds. Three pages including the page with music with bar borders in burnished gold and pink or blue and with full illuminated borders of acanthus leaves and flowering naturalistic plants in red, blue, green, or gold and hairline tendrils in black ink terminating in gold disks, flower buds and trefoils. Condition: a few small marginal holes and some holes in text block caused by acidic ink. Provenance: Cornelius J Hauck Collection, sale Christies New York, 27th June 2006 lot 104. These leaves were part of a lavishly decorated Missal. The style of the border decoration, particularly the use of orange and liquid gold fruits, evokes the illuminator known as the Master of Margaret of Orléans (duchess of Brittany), and the manuscript may have been produced in Brittany. The leaves contain the opening of the Introit Benedicta sit sancta trinita for Mass on Trinity Sunday, the Introit Resurrexi et adhuc tecum for Mass on Easter Sunday, and the Preface Per omnia secula seculorum from the Canon of the Mass.
BOOK OF HOURS, use of Rouen, in Latin. Late 15th Century Northern France (probably Rouen), [c. 1470-80 and c. 1520]. Illuminated manuscript on vellum. Small 4to (160 x 110 mm). 236 leaves, 1 blank, complete, red ink foliation skips a leaf between fols.86 and 87, ruled in red ink, 25 lines, written-space 112mm. by 70mm.
Bloomsbury Auctions
Site web [Link]
Sur ebay, plusieurs pièces intéressantes. Les notices sont celles des vendeurs …
§ Un document d'origine française assez exceptionnel: une pancarte chronique du XIVe s.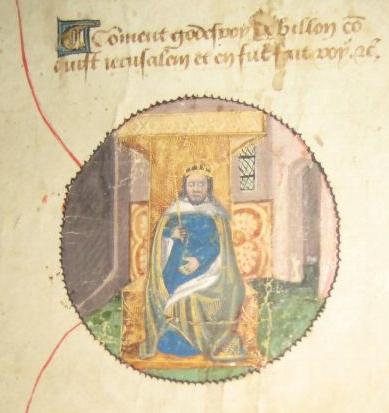 Comment Godefroy de Billon conquist Ierusalem et en fut fait roy. etc
A 14 or 15th century sheet of parchment (125 x 57 cm) which traces the history and descent of the Popes, the Holy Roman Emperors, the Kings of France and of the Latin Kingdom of Jerusalem.
Lot 111 in the celebrated Hauck sale (the History of the Book, 28 june 2006) was the last time to my knowledge that a complete roll came up for auction 55.5 x 1915cm (63'10\" x 1'10\") and made a staggering 140.000 $.
In the last section of the sheet, the following genealogy of kings and queens is mentioned:
Philip IV (April-June 1268 – November 29, 1314)
Philip V (c.1292/93 – 3 January 1322)
Blanche of Valois (1317–1348)
On left side is a list with popes
Clement VI (1342-52)
Innocent VI (1352-62)
Urban V (1362-70)
Gregory XI (1370-78)
Urban VI (1378-89)
As I can figure out the segment next to Clement VI talks about indulgences, and I take this to refer to the Bull Unigenitus, January 27, 1343, in order to justify the power of the pope and the use of indulgences.
For it says in the HAUCK catalogue:
Other versions survive, showing that it was a composition (meaning the history of the kings of France, the conquest Jerusalem etc) that was repeatedly updated to provide a pedigree for the current King of France. For example the introduction to the manuscript in Paris (Bib. Nat. MS fr. 61) that ends with Charles VII (d.1461) declares the scope of the work to continue until 1375 and Charles V. The copyist obviously overlooked this anachronism. There is a similar scribal oversight in the present manuscript showing that this too was an updated copy of an earlier text.
Four other Chronicle rolls closely related to the Hauck manuscript and apparently copies of the same version are in the New York Public Library, MS 124 (New York, Metropolitan Museum of Art, The Secular Spirit: Life and Art at the end of the Middle Ages, 1975, p.166), Cambridge, Mass., Houghton Library, bMS Typ 41 [Link] (Roger Wieck, Late Medieval and Renaissance Illuminated Manuscripts 1350-1525 in the Houghton Library, Cambridge, Mass. 1983, pp. 22-23), A roll in the London Borough of Croydon Archive and a roll formerly the property of the Earl of Derby sold at Christie's, London, 26 November 1997 lot 5, for £40,000.
Illumination:
There are three miniature roundels: two of a king and one of a knight or king in a boat. Most likely depicting Godefroy de Bouillon on board a ship to conquer the Holy land (his name is mentioned in the manuscript). In the text 39 illuminated capitals, in blue with burnished gold.
Link: ebay Item number: 300198922634
§ Un psautier-hymnaire du XIV. Sud de la France, ou Italie.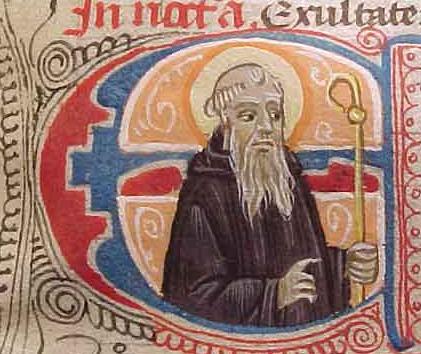 111 f. 142 x 102 mm
: Measures approx. 6\" x 4.25\" (142 x 102mm) Collation is as follows: (1-11(8), 12(9) (of 10, lacking v, a blank? exised during construction?, a3(8), 14(6). 11 and vIII are blanks, as both 141 and v1. Both 1(8) and 14 have been folded back to form fly leaves when the present binding was put on. 28 lines written in a round gothic bookhand in dark brown and black ink. In two columns, except for the Kalendarium, between 4 verticals and 29 horizontals. Justification, written space 102 x 71mm; rubrics in red. Two-line initials in red or blue to begin with; hymns and canticles with penwork infill decoration and flourishes extending into margins. Each sentence beginning with a one-line initial in alternate red and blue. Eight historiated initials (Five seven-line; two six-line, and one five-line). Of very high quality. Some rubbing in places with a slight loss of text (except under UV light) at 12.8 recto. Written in one main hand, with a few additions by two other hands, the neater of which may have written the Kalendarium. There is no foliation, but 12 of the 14 gatherings have catchwords at the bottom of the verso of their last leaf, answered by the first word of the next gathering. These are from gatherings 2 to 13 inclusive. : (1) Kalendarium. (1.2 recto to 1.7 verso). Then (2) The 150 Psalms, interspersed with 25 hymns, dominical and ferial, with canticles, antiphons, and rubrics for offices of Lauds, Prime, Terce, Sext etc. (On 2.1 recto to 12.1 verso column a). Then (3) Hymns, Canticles, including Magnificat, Nunc Dimittis, TeDeum etc and Litany. The main text begins at 2. 1 recto with Incipit Liber Hymnorum vel Soliloquiorum Prophetans de Christo etc. Quire 12 has nine leaves. One leaf (the 5th in order) has been neatly removed, leaving only a stub. One would expect the bibliofola to conjunct thus; 1+10, 2+9, 3+8, 4+7, 5+6 but 5 is not conjunct with 6. Without stressing the binding, it is difficult to see its fellow. However it may have been cut out during the writing of this quire, as otiose. Comparison with the list of saints invoked in the Litany in York Minister Library Psalterium XVI.0.19 (of the 13th Century) reveals that 'Omnes Sancti Confessores' is immediately followed by 'Sancta Maria Magdalena'. This is exactly the same sequence as we find here from the last entry on 12.4 verso and the and the first entry on the recto of the next text leaf. There is the further point that had a text leaf been lost, it would have had to contain an additional 112 saints names. For both these reasons, it seems safe to conclude that no text is missing, and that this handsome volume from circa 1350 A.D.
: The subjects of the historiated initials, and their placing are as follows: 2.1 Recto: Beatus Vir Qui. (Psalm 1) King David against cobalt blue background; the aged King plucks a four-stringed harp and wears a golden crown and halo. 3.5 Verso: Dominus Illuminatio Mea. (Psalm 26). S.James the Great. Against a pink oval field, clutching a black cross, with his left side covered by a lime green gown. Also a rough brown hair shirt etc. 5.4 Verso. Dixit Insipiens. In Corde Suo. (Psalm 52). A Fool against a light blue background, wearing a five-pointed jesters crown, and a three-buttoned orange tunic. His right hand loosely grips a curiously-headed rattle. There are further miniatures for Psalm 68 (S. Laurence); Psalm 80 (S.Benedict?), Psalm 97 (St. Barbara) and Psalm 109 (Christ). The 150 Psalms were sung each week. The historiated initials placed at the head of the Psalms mentioned, mark the first Psalms for Matins each day, and the first Psalm for Sunday Vespers. Hence there are, as there should be, eight such initials. The Hymarium with its 68 hymns begins at 12.8 recto. Its beginning is marked by an initial 'P' (for Primo dierium omnium). The figure which would originally have been within the bowl of the 'P' has, puzzingly, been rubbed out. (May one guess at a saint who subsequently fell into disfavour, or who's feast was suppressed?)
: The hollow back indicates the present binding to be later than 1770, probably 19th century. The covers are blindtooled to a panel design using a 7-line fillet, Inside this border is an intricate interlace pattern etc. Vellum pastedowns and rougher parchment endleaves. The four compartments of the spine are decorated with an X pattern framed by a 3-line fillet on each side. The sewing does not correspond with the three false raised bands, and its brightness suggests it may well be contemporary with the binding. The slight worming in the gutter margin of the Kalendarium leaves is not continued into the Incipit leaf which follows. This, coupled with the different hand of the Kalendarium from that of the main text, may suggest that the Kalendarium was written a little later than the main text.
: A terminus post quem for the Kalendarium is provided by the presence of Peter Martyr O.P. among the April Saints. He was not canonised until 1253. A terminus for the main text is given by the inclusion (13.5 recto) of the Feast of Corpus Christi, whose observance was commanded by Urbanus IV in the Bull Transiturus of 1264. The liturgical, gothic bookhand remained remarkably consistent even to the end of the 15th century, but to suggest a date in the middle of the 14th century would seem reasonable. (1270 A.D.-1350 A.D.) Colouring and stylistic features of the historiated initials are both consonant with this date of 1350 A.D. Research into costume dress and features (eg. The three buttons of the Fools smock) (5.4 verso) may help to furnish a more precise date still.
: Of the saints in the Kalendarium whose feasts have a local rather than a general celebration, some 29 enjoy special veneration in the South of France and North Italy. The Feasts have either three or nine readings attached to them – a mark of a secular rather than a monastic church. This Psalterium seems likely to have been written then for a secular church somewhere near the borders between Provence and Northern Italy, a church rich enough to pay the services of an accomplished painter of miniatures.
Link: ebay Item number: 330208582330
§ HORAE B.M.V. Illuminated Manuscript Book of Hours.
Très modeste Livre d'heures.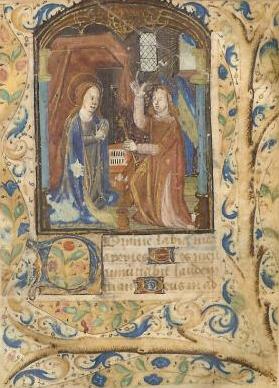 Use of Poiters, France, Circa 1460 – 1480.
107 leaves on vellum, 99 x 77.5 mm with 17 lines per page.
Written in brown ink of letter batarde script. Rubrics in red, initials throughout in burnished gold on red and blue grounds and calendar with major feasts in red.
Seven leaves with ¾ borders of acanthus leaves and flowers with burnished gold bezants, three and four line initials of burnished gold on colored grounds, and colored initials on burnished gold grounds. Two miniatures in arched compartments above two and eight lines of text with full borders of colored acanthus leaves, flowers, branches and a bird.
Rebound in recent years in genuine 15th century red brocade velvet having string closures and nail studs on fore-edge of binding.
Fifteenth century English lead pilgrim badge mounted on front fly-leaf, probably remounted there when rebound.
f. 1-12. Calendar
f. 13. Fragments of Passion according to St John
f. 14v-17. Intercessory Prayers to the Virgin
f. 18-20. Blanks, ruled and lined
f. 21r-29r. The Hours of the Virgin (Matins); opens with a miniature of the Annunciation in a Gothic interior
f. 29v-38. Lauds through Vespers, each Hour opened with a ¾ border
f. 39r-56. Compline opened with a ¾ border
f. 57r-66. Penitential Psalms opens with miniature of King David in Prayer
f. 67r-70v. Litany of Saints
f. 71-100. Miscellaneous prayers
f. 101-102. Blanks, ruled and lined
f. 103. Prayers in Fench
f. 104-107. Prayers in Latin
Largely fine throughout, text lightly faded, a few leaves slightly rumpled, miniatures lightly thumbed with some light chipping. An elegant little personal prayer book no-doubt once owned by a wealthy nobleman or woman.
Link: ebay Item number: 270207745449
Le couvent des frères prêcheurs de Rouen fut fondé par saint Louis, dans le manoir Saint-Mathieu, au faubourg Saint-Sever, hors le pont, que le roi avait acquis dès 1261 de l'archevêque Eudes Rigault, en échange du vivier de Martainville. Y succédèrent les religieuses dites Emmurées, et antérieurement Sœurs de Saint-Dominique. En juin 1266, le roi leur fit présent d'une épine de la sainte couronne et de magnifiques ornements. Après sa mort, on leur donna un des os de sa main, dans un reliquaire de cristal.
Farin nous apprend qu'on lisait autrefois, à l'entrée de l'église, la vieille épitaphe sur pierre, ci-après :
L'an mil deux cent soixante-neuf,
Ce monastère fut fait neuf
Que l'en dit les sœurs Emmurées,
Et lequel en temps ancien
Saint Louis, roi très chrétien.
De François fonda en ce lieu
Au titre de saint Mathieu
De son règne l'an troisième
Avec le quarantième.
(Histoire de Rouen, édition 1738)
En faite, la date de la fondation du premier monastère est inconnue. Il fut détruit en 962, et dépendait de l'abbaye de Marmoutier (Indre-et-Loire). Occupé par les jacobins de 1222 à 1247, puis par les dominicaines à partir de 1263. Chapelle construite fin 3e quart 13e siècle. Couvent ruiné lors du siège de Rouen par Henri V roi d' Angleterre en 1418. Reconstruction de la chapelle, consacrée en 1479. Cloître 15e siècle. Couvent dévasté par les Calvinistes en 1562 et lors du siège de Rouen par Henri IV en 1591. Travaux de restauration au 17e siècle. Nef (et peut-être choeur) reconstruite en 1666. Supprimé à la Révolution. Bâtiments conventuels détruits vers 1855. Chapelle détruite par un incendie en 1876. Vestiges du cloître détruits vers 1935 © Inventaire général, 1986.
Sources: service régional de l'inventaire Haute-Normandie
Biblio: Paul Baudry, Le monastère des Emmurés, dans Revue de Rouen, 1848, p. 545-560. Sauvage, R.-N., Notes sur le monastère des Emmurées de Rouen, S.l.n.d. Voir cartulaire aux AD 76, H 68.

Arader Galleries de New York présente à la vente un processionnal ayant appartenu au monastère des dominicaines de Saint-Mathieu de Rouen. Le manuscrit fut par la suite en possession du bibliophile normand Jacques Ribard (sans-doute Jacques Paul Vincent Adrien Ribard (° 24/01/1738, + 11/11/1813), fils de Jean-Nicolas Ribard & d'Elisabeth Sangdelion.
Notice du catalogue:
PROCESSIONAL, for the use of Dominican nuns, in Latin and French, ILLUMINATED MANUSCRIPT ON VELLUM [France, c.1520 and 1674] 225 x 158 mm. 69 leaves: iv +18, 23 (ii a singleton), 310 (vii and viii a bifolium), 42, 5-64, 72, 88, 96, 10-144, pagination 1-132 followed here, pp.i-iv, pp.35-40, pp.65 and pp.83-134 are all part of the 1674 remodelling, when pp.133 and 134 were left blank, nine lines of music of square notation on a four-line stave of red between nine lines written in black ink in a gothic bookhand, justification: 193 x 108mm, rubrics in red, capitals touched yellow, original leaves with two-line initials of liquid gold on grounds of brick-red or blue and gold decoration within the rubrics, antiphons opening with either fine two-line illuminated initials with monochrome staves against grounds of liquid gold, usually with a flower-sprig as an infill, or with two-line black calligraphic initials with yellow wash, TWELVE LARGE HISTORIATED INITIALS with staves of liquid gold against grounds of red and blue, the biblical scenes in full colour and highlighted with liquid gold, TWO FULL-PAGE ILLUMINATED BORDERS, one of renaissance architectural forms, the other containing the standing figures of saints between flower-sprays against a liquid gold ground; the later leaves of the same format but with up to 28 lines on text-only pages, and restricted to two-line initials of red (borders rubbed, three historiated initials smudged, text erased and replaced, some text alterations made by pasting on updatings). Contemporary calf, panelled in blind with spine gilt in six compartments and with red morocco lettering-piece (some rubbing). CONTENT: Prefatory instructions ff.ii-iv; Table of contents ff.iv verso; chants for the processions on the following feasts: Purification of the Virgin, Palm Sunday, Holy Thursday, Good Friday, Easter Sunday, Ascension, Corpus Christi, Dedication of the Church, St Dominic, Assumption, St Louis, King of France, St Matthew, All Souls' Day, St Adrian, St Roch pp.1-97; Offices for taking the veil, for the burial of the Dead and the Office of the Dead, Antiphon of St Barbara pp.97-132; chants in honour of the Virgin added in a slightly later hand pp. 133-134. The Processional has undergone extensive remodelling from its original form. This may have been to bring it into line both with post-Tridentine usage and the liturgical requirements of S. Mathieu at Rouen. Sections of text and music have been erased and replaced with detailed instructions and rubrics in French, often evoking a vivid picture of the ritual of religious life. ILLUMINATION: The historiated initials are the work of the illuminator known as the Master of Girard Acarie from his work in the splendid copy of the Roman de la Rose that Acarie presented to Francois I around 1525: Margareta Friesen, Der Rosenroman fur Francois I. New York Pierpont Morgan Library M.948, Graz 1993. The Master, along with the Master of the Ango Hours — with whom he sometimes collaborated — was part of the final phase of illuminated manuscript production in Rouen, where the trade in luxury manuscripts continued to flourish well into the 16th century, benefitting from the patronage of Cardinal d'Amboise, Louise of Savoy and other members of the court of Francois I. On a more modest scale, as befits its liturgical and monastic provenance, the present manuscript is, nonetheless, a characteristic demonstration of the Master of Girard Acarie's decorative and suave style. The subjects of the historiated initials are as follows: p.1 Presentation in the Temple with full-page border; p.7 Entry into Jerusalem; p.18 Agony in the Garden; p.22 Christ washing Peter's feet; p.41 Resurrection with full-page border; p.44 Transfiguration; p.49 Ruler offering bread and wine; p.55 Dedication of a Church; p.61 St Dominic; p.67 Assumption; p.73 St Louis; p.77 Apostle. Provenance: 1. The presence of three Dominican saints in the border of p.41 and the provision for the procession on the feast of St Dominic, p.61, suggest that the manuscript was originally made for the use of a Dominican convent. The style of illumination indicates that the manuscript was made in Rouen around 1425. 2. The title-page identifies the manuscript as 'Pour le Chantre du Royal Monastere de S. Mathieu dit les Emmurees … Rouen' in the year 1674. The manuscript does contain the chants for the feasts of the Dedication of the Church and St Louis of France — founder of S. Mathieu — processions that the introduction says are specific to that convent, but it is unlikely that it was originally intended for the use of the precentress there. The manuscript was extensively modified in order to customise it, and other feasts specifically marked with a procession at the convent of S. Mathieu are part of the later additions, or, in the case of St Matthew, an adaptation of the feast for the Common of an Apostle. 3. M. Ribard, rue Morand [Rouen]: his label inside the upper cover. 4. Sir Thomas Phillipps (1792-1872): Ms 4393 (spine label and inscribed on flyleaf), bought from Royez; British Library, Loan 36/18.
Catalogue en ligne [Lien]
La vente du 31 janvier 2008 (Paris, Cornette de Saint-Cyr) propose sous le lot 58 un très intéressant manuscrit concernant l'histoire de la Lorraine.
• Fratris Richerii Senoniensis religiosi Liber.
•• Anthonii illustrissi[mi] Lotharingie ducis vita.
Il s'agit d'un manuscrit de la première moitié du XVIe siècle en un volume petit in-12° (97 x 142 mm), maroquin brun, décor à froid ornant les plats, dos à nerfs (reliure fin XIXe s.) réunissant deux ouvrages distincts:
• Fratris Richerii Senoniensis religiosi Liber [Chronique de l'abbaye de Senones], par Richer, religieux de cette abbaye, suivi de:
•• Anthonii illustrissi[mi] Lotharingie ducis vita [Histoire d'Antoine (le Bon), duc de Lorraine], par Jean Herquel, dit Herculanus, chanoine de Saint-Dié.
119 f. numérotés (y compris la table) et 8 f. non numérotés.
Le premier manuscrit est daté de 1539 (f. 114) et la table porte les dates de 1539 (f. 118v) et 1545 (f. 119v). Textes rubriqués; lettrines rouges et bleues, la première ornée d'armoiries.
Quelques inscriptions manuscrites additionnelles en début et en fin du volume, dont quelques exlibris. L'une de ces mentions signale que « ce livre a appartenu à Jean Herquel, dit Herculanus, chanoine de St-Diez, qui a composé l'Histoire de St Diez qu'il a tiré presque en entier du présent ouvrage […]. »
On trouvera dans l'étude [en ligne] de Marie-José Gasse-Grandjean, Manuscrits médiévaux des monastères et chapitres vosgiens. Catalogues et inventaires (ARTEM / MENESTREL) plusieurs références à d'autres manuscrits du texte de Richer, moine de Senones (Epinal BM 121 & 229; Paris BnF Lat. 10016 (XIIIe s.), et de celui de Jean Herculanus (Nancy BM 537(348)
Richerii, Senoniensis monachi, historiarum liber.—Incipit :« Cum ea que, de mundi hujus creatione. » — 1588. Ecrit à longues lignes, en cursive. Il ne manque qu'un ou deux feuillets à la fin. La table est complète; elle se termine ainsi : Expliciunt capitula quinque librorum tractatus fratris Richerii, monachi Senoniensis, 1588, penultima Julii. » A la suite deux feuillets de prières. Cette chronique a été publiée par Dachery. (Voy. Spicil. t. II, p. 603, édit. in-fol.) D. Calmet en a donné des fragments dans les Preuves de son Histoire de Lorraine, et M. J. Cayon en a publié une traduction ancienne du XVIe siècle, intitulée: Chronique de Richer, moine de Senones, traduction française du XVIe siècle, sur un texte beaucoup plus complet que tous ceux connus jusqu'ici, publiée pour la première fois avec des éclaircissements historiques, sur les manuscrits des Tiercelin, de Nancy, et de la bibliothèque publique de la même ville. Nancy, librairie de Cayon-Liebault, 1843 (in-4°, 248 p., tiré à 100 exemplaires)
Sources: Catalogue général des manuscrits des bibliothèques des départements, III, 1861, p. 435
Catalogue de la vente du 31 janvier 2008 [en ligne] sur le site de Bibliorare
Late fifteenth century, comprising Calendar in French, including SS. Medart, Landelin, Vedast, Geri (Gaugeri), Bishop of Cambrai and Nicasie (14 December, in red), Prayers, including O intemerata, and Sequences of the Gospels and Hours of the Holy Ghost; Hours of the Cross. Hours of the Blessed Virgin Mary, penitential psalms and litany, hymns and prayers including the seven words from the Cross and les joyes nostre dame, suffrages of the saints, including Gaugeric, Office of the dead, five half-page miniatures depicting the Crucifixion, Pentecost, the Annunciation, David in Prayer and the raising of Lazarus, all beautifully executed and extended to full-page by ornate borders, illuminated initials and borders throughout with generous use of gold, 14.2 x 9.5cm, 158 leaves, eighteenth century red morocco gilt, covers with ornate gilt leaf and flower design, spines gilt in compartments, gilt dentelles, g.e., green morocco slipcase.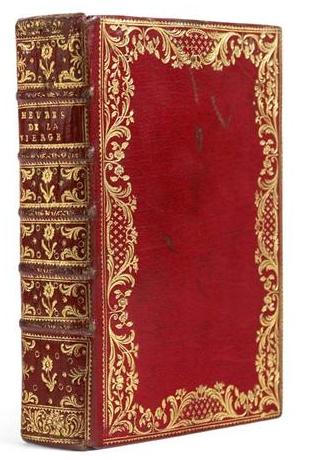 A very attractive late 15th century Book of Hours, Use of Cambrai in a fine eighteenth century binding. The manuscript was evidently written for a woman, the prayers O intemerata and Deprecor te domina both having the feminine form percatrici.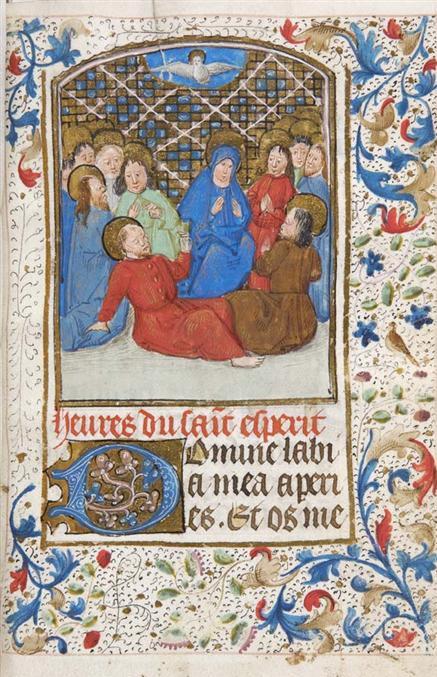 Provenance: Denys François du Rieu, 16 February 1686, purchase inscription on verso of final leaf.
Lyon & Turnbull [Link]
33 Broughton Place
Edinburgh
On EBAY n° 280185742096
Paris – Salle Rossini – ALDE. Samedi 8 Décembre 2007 Lot 73. Coutumes de Bretagne, rare édition de 1514
Voir [Lien]
Lot 112. Heures à l'usage de Paris. ca 1425. 159 f. 145 x 105 mm.
Catalogue en ligne sur Bibliorare : [En ligne]
Lyon – ANAF Arts Auction. Mercredi 12 Décembre 2007 : 49 actes originaux des XIV et XVe s. Très rare documentation. Nombreuses quittances.
Catalogue en ligne sur le site Bibliorare : [En ligne]
Parmi les premières pièces :
1. [CHARLES V, ROI DE FRANCE]. Pièce signée par Jehan de Vernon (+ 1376), secrétaire du roi (seing manuel et sceau en cire rouge). Sur vélin. Paris, 19 décembre 1370. Mandement de Charles V pour le remboursement de cent francs or à son secrétaire Jehan de Vernon, « laquelle je avois prestée au Roy notre dit seigneur et baillée de son commandement à messire Philippe de Sanoisy chevalier son chambellan pour les causes contenues en un sien mandement (…) ».
2. CHARLES VI, ROI DE FRANCE / GUERRE DE FLANDRE]. Pièce signée par Valogier, « Soubz mon scel en tesmoing », le 1er novembre 1385. Mandement du roi Charles VI pour la rétribution d'un chevalier, Nicolas Paynel (1), à hauteur de 150 francs, « que le roy messire m'a donné pour considération des bons et agréables services que je lui ay faiz et en ré compensât ion des grans fraiz missions et despens qui m'a convenu faire en la dernière chevauchée et armée qu'il a faite en pais de Flandre en laquelle je l'ay servy (…) ».
3.[CHARLES VII / MISSION EN NORMANDIE]. Pièce signée (seing manuel et sceau en cire rouge) par Colart de Bruneval (2), écuyer et émissaire au service du Dauphin, le futur Charles VII. In-4° oblong sur vélin. 11 janvier 1418. En avril 1417, Charles prend le titre de Dauphin. Avec l'aide des Armagnacs, il fait exiler sa mère à Tours, la reine Isabeau de Bavière. Quatre mois plus tard, en août, Henri V débarque en Normandie et conquiert la province. De son « siège devant Tours », le dauphin Charles envoie son émissaire Colart de Bruneval en Normandie pour l'informer de la situation. Celui-ci reçoit une rétribution de 80 livres tournois du receveur général de toutes les finances tant en langue d'oil qu'en langue d'oc par « ordonnance de monseigneur le Régent du royaume, Daulphin de Viennois (…) par ses lettres données le 30e jour de décembre l'an passé, m'avoit autorisées et ordonnées pour moy aider et supporter les fraiz missions et despens qu'il m'a convenu et conviendra faire, tant pour estre venu d'Arqués et aulcunes autres places du pais de Normandie estant en l'obéissance du Roy et de mondit seigneur le Régent, par devers mondit seigneur en son siège devant Tours, luy dire et rapporter aulcunes choses touchant Testât et garde des dictes places de par les chevaliers et escuiers estant en icelles, comme pour mon retour près d'eulx leur rapporter la response de mondit seigneur (…) ».
4. [Louis, DUC DE GUYENNE]. PS. par Bernon du Pont, écuyer (seing manuel). Parchemin oblong. 31 juillet 1415. Bernon du Pont confesse avoir reçu du trésorier et receveur général des finances du duc de Guyenne, la somme de50 livres tournois en déduction des 200 fl. qu'il lui devait « pour certaines causes et considérations (…) ». (Louis, duc de Guyenne (1397/1415), fils du roi Charles VI, dauphin de Viennois, frère de Charles VII}.
5. [CHARLES D'ESPAGNE / ANGOUMOIS]. Charte sur vélin avec fragment de cire rouge. 6 décembre 1353. Adenet de Mante, écuyer, confesse avoir reçu de Jacques Lempereur (3), trésorier des guerres du roi « pour les gaiges de moy seul desservis en ceste présente guerre d'Angoumois depuis le 3e jour de novembre 1353 jusqu'au 6e jour de décembre, soubz le gouvernement de monseigneur Charles d'Espaigne conte d'Angoulême, connestable de France, lieutenant dudit seigneur es pais de Xainctonge et d'Angoumois et pour mon retour », la somme de 14 livres et 5 sols tournois. (Charles de Castille d'Espagne (mort en 1354), comte d'Angoulême, connétable de France (1350)
6. JEHAN DE CONDE / GASCOGNE. PS. sur vélin par Jehan de Condé (seing manuel). Agen, 15 mars 1343. « Nostre sire le Roi (Philippe VI) est tenu à Guillaume Malescu, escuier, en la somme de neuf livres, dix neuf sols et six deniers tournois pour tout le dénombrement des gaiges de luy et des gens d'armes de sa compaignie desservis en ceste présente guerre de Gascogne souz le gouvernement de mons. de Beauvais, lieutenant du roy nostre dit seigneur es dictes parties de Gascoigne (…) »
7. [ENGUERRAND DE COUCY / CHAMPAGNE]. Charte en son nom, scellée par son sceau en cire rouge. Enguerrand de Coucy « comte de Soissons, lieutenant du roy mess, et capitaine général sur le fait de la guerre en la province de Reims » confesse avoir reçu la somme de 1000 francs d'or du receveur général « de l'aide qui nagaires a eu cours pour le dit fait en ladite province », somme qu'il lui était due « pour nostre estât du mois de février à cause de mil frans qui ordonnés nous ont esté par ledit seigneur prendre et avoir chascun mois tant que nous serons audit service (…) ». (En ce mois de mars 1387, le roi Charles VI vient lui rendre visite à Coucy, le nomme à cet occasion grand bouteiller et lui concède deux foires annuelles) (4)
: Catalogue
:
(1) En 1388, Nicolas Paynel, seigneur de Briqueville, obtint du roi Charles VI le droit de relever son château, et il en rebâtit les tours. Il était fils de Foulques Paynel, troisième du nom, et d'Agnes de Chanteloup. Il épousa vers 1393 Jacqueline de Varenne, veuve de Raoul Tesson, seigneur du Grippon. Leur fils Jean, seigneur de Briqueville, fut père de Guillaume dont le fils Jacques se maria en 1465, et fut père d'un autre Jacques dont le fils aîné, seigneur de Briqueville, marié à Jeanne du Mesnildot, mourut sans postérité. Nicolas Paynel, qui était seigneur de Briqueville en 1418, resta fidèle à la France. Henri V confisqua ses terres et son château, qu'il donna au comte de Huntingdon. Par un mariage dans la famille Paynel , la seigneurie de Briqueville passa aux de Piennes qui la vendirent, en 1473, à Elisabeth de Montboucher, veuve de Jean de Montgommery. Son fils Jean de Montgommery la possédait en 1491. Mémoires de la Société des antiquaires de Normandie, 1825, p. 281-282. Il fut un des premiers compagnons de Du Guesclin.
(2) Peut-être Nicolas de Bruneval, échanson du roi, et en 1416 grand fauconnier de France, fut aussi écuyer-tranchant du duc d'Orléans : en 1406 il enlevait Marie de Kais, riche orpheline, qu'il épousa ; poursuivi pour rapt en 1407, il obtint sa grâce en 1412 et mourut en 1418. Oeuvres inédites d'Eustache Deschamps, II, Paris, 1848, p. 152.
(3) Jacques Lempereur, trésorier des guerres de 1351 à 1360, général des aides, issu d'une famille d'orfèvres et de changeurs parisiens. Lucie Fossier, Anne Terroine, Chartes et documents de l'abbaye de Saint-Magloire, III, Paris, 1976, p. 611 et n. 1. Institué, le 10 mai 1376, maître enquêteur des eaux & forêts. Créé maître des eaux & forêts de Champagne & de Brie le 12 juillet de la même année, il fut élevé, en 1381, à la charge de maître enquêteur des forêts & garennes du roi par tout le royaume, fonctions qu'il exerça encore en 1386 et 1387. Histoire généalogique & chronologique de la Maison roi de France, t. VIII, p. 876.
(4) « Roy ne suis, ne prince, ne duc, ne comte aussy : je suis le sire de Coucy » Sur Enguerrand VII de Coucy (1339 – 1397) [Lien]
Paris. Vente Béres du 18 décembre. Drouot Pierre Bergé
Lot 366. Heures à l'usage de Paris. Impression de Gering et Rembolt pour Simon Vostre. 8 septembre 1498. Exemplaire de Charles-Louis de Bourbon.
Catalogue en ligne sur le site Bibliorare [En ligne]
Sotheby's winter sale traditionally includes a batch of precious manuscripts, and this year there it includes a masterpiece: the sublime and famous Ottheinrich Bible, in German, of which 3 (out of 8) volumes are in the Staatsbibliothek in Munich (published in facsimile in 2002).
The group of manuscripts making up this bible were almost certainly commissioned for Louis VII the bearded (1368-1447), duke of Bavaria from 1413-1443. The decoration of the first volume (which is in Munich) carries the arms of France and Bavaria, with the device \"De bon ceur vray sans repentir a tout iour\" (\"A good and true heart which never turns back\"). During the years 1390-1415 Louis was at the court of France thanks to his sister Queen Isabeau (1371-1435), and it was here that he was surrounded by gothic art and the book-loving royal family. \"Louis the bearded was about the same age as his sister, and he came to France to make his fortune. He found in Isabelle a indulgence which knew no bounds. From 1402-1405 he held the post of the grand maître de l'hôtel du roi (grand master of the king's household), one of the highest possible. He only left this post in order to become a member of the council.\" In addition, he was a nephew (by marriage) of the Duke of Berry.
In 1402 he married Anne of Bourbon (+ 1408), then on 1st October 1413 at the hôtel Saint-Pol (Paris) he married Catherine d'Alençon, widow of Pierre de Navarre, count of Mortain. \"It could be said that for twenty-five years his life consisted of a series of swoops on France and Bavaria. His progress was marked by numerous violent or scandalous depredations to the shame and misfortune of the two countries. In France he was, along with his sister, by the side of the duke of Orléans, like a bad fairy. Think of the convoy of six horses laden with French gold which crossed the Metz in 1405 in order to get to Germany. On the 5th February of the same year, Louis the bearded, together with the queen and the duke of Orléans, made Charles VI sign letters patent for a royal gift of twenty thousand francs for his first marriage. As security, Louis took delivery from the guard of the king's jewels some of the crown's most precious items. The authentic record of this gift remains in the royal archives of Munich. From this and from many other jewels taken from the same source, he amassed enormous riches in precious metals, sacred vases, jewels and precious stones. This wealth was divided into three parts: the first became the bounty of one of Louis's relatives, a high-ranking officer in the Bavarian Rhineland, who somehow managed to get hold of it; the second consisted of the treasures of Ingoldstadt; and the third the treasures of Notre-Dame d'Œttingen. The last two were shown in public in 1710.\" (1)
On his return to Germany, Louis naturally occupied himself with the decoration of his castle in Ingoldstadt where he brought together a sumptuous collection of manuscripts. After the prince's tragic death, and following the division of Bavaria into three distinct districts, the collection was dispersed.
Ottheinrich, elector Palatine (1502-1559), who was also a booklover, had the manuscript in his possession in 1530. It was a treasure of his library at Heidelberg, and he commissioned Mathis Gerung to complete the miniatures. The five volumes available at Sotheby's (Lot 40 of the sale) have a total of 189 folios of 533 x 374mm, and are described in a their own catalogue with numerous illustrations.
La vente d'hiver de Sotheby's nous apporte traditionnellement son lot de précieux manuscrits, cette année avec une pièce maitresse : la sublime et célèbre Bible d'Ottheinrich, en allemand, dont 3 volumes (sur 8) sont déjà conservés à la Staatsbibliothek de Munich (publication fac-similé en 2002)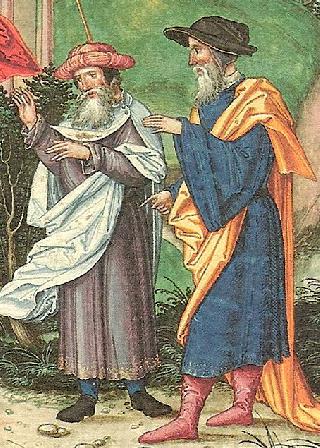 (c) Sotheby's
L'ensemble des manuscrits composant cette Bible fut sans doute commissionné par Louis VII (1368-1447), duc de Bavière de 1413 à 1443, dit \"le Barbu\". La décoration du premier volume (à Munich) portent les armes de France et de Bavière, avec la devise De bon ceur vray sans repentir a tout iour. Dans les années 1390/1415 Louis fréquenta la cour de France, près de sa soeur, la reine Isabeau, (1371-1435) s'imprégnant ainsi d'art gothique et des pratiques bibliophiles de l'entourage royal. \"Louis le Barbu était à peu près du même âge que sa sœur; il vint en France pour y chercher fortune. Louis trouva auprès d'Isabelle une complaisance sans bornes. De 1402 à 1405, il remplit à la cour l'office de grand maître de l'hôtel du roi, l'une des hautes charges de la couronne. Il ne quitta cette place que pour entrer au conseil\". Au reste, il était neveu, par mariage, du duc de Berry. En 1402 il prit pour femme Anne de Bourbon (+ 1408), puis Catherine d'Alençon, veuve de Pierre de Navarre, comte de Mortain, qu'il épousa à l'hôtel Saint-Pol, le 1er octobre 1413.
\"Durant vingt-cinq années, sa vie forme, on peut le dire, une suite de descentes opérées alternativement en France et en Bavière. Ses pas furent marqués par autant de déprédations violentes ou scandaleuses, pour la honte et le malheur de ces deux pays. En France, il fut, aux côtés de sa sœur, avec le duc d'Orléans, comme un mauvais génie. L'on se rappelle ce convoi de six chevaux chargés d'or de France qui traversa Metz en 1405, faisant route pour l'Allemagne. Le 5 février de la même année, Louis le Barbu, de concert avec la reine et le duc d'Orléans, avait fait signer à Charles VI des lettres patentes : ces lettres reconnaissaient en sa faveur un don royal de cent vingt mille francs à l'occasion de son premier mariage. Pour nantissement de ladite somme, Louis se fit délivrer par le garde des joyaux du roi une partie du mobilier le plus précieux de la couronne. Le titre authentique de cette donation subsiste aux archives royales de Munich. De ce fonds mobilier et de beaucoup d'autres joyaux tirés de la même source, il composa un amas énorme de richesses en métaux précieux, vases sacrés, bijoux et pierreries. Cet amas fut divisé en trois parts : la première devint le lot d'un parent de Louis, haut officier de la Bavière rhénane, qui s'en saisit on ne sait à quel titre; la seconde composa le trésor d'Ingoldstadt, et la troisième le trésor de Notre-Dame d'Œttingen. Ces deux derniers se montraient publiquement en 1710\" (1).
A son retour en Allemagne, Louis influa naturellement sur la décoration de son château d'Ingolstadt où il installa une somptueuse collection de manuscrits. A la fin tragique du prince, et à la suite de la division de la Bavière en trois duchés distincts, celle-ci fut dispersée.
Ottheinrich, prince électeur du Palatinat (1502-1559), bibliophile, était en possession du manuscrit en 1530. Fleuron de sa bibliothèque d'Heidelberg, il engagea Mathis Gerung pour exécuter les enluminures restées inachevées.
Les cinq volumes présentés par Sotheby's (lot 40 de la vente) forment un total de 189 f. de 533 x 374 mm, et sont décrits dans un fascicule à part avec de nombreuses illustrations.
Also included in the sale on the 4th December are the following items / A cette vente du 4 décembre 2007, nous avons noté :
§ Lot 1. 107 fragments provenant de reliures dont un extrait de sacramentaire en écriture carolingienne (France, IXe s.), autre fragment du Libellus de Exordiis de Walahfrid Strabo (Xe s.); de l'Université de Paris …
§ Lot 7. Miniature de la Crucifixion attribuée au Maître de Dunois, Paris ca 1430.
§ Lot 16. Un feuillet tiré d'un exemplaire des Grandes Chroniques de France.
§ Lot 27. 5 f. d'un Livre d'heures du XVe s., décoration attribuée au Maître de Marguerite d'Orléans. Bretagne ou Vallée de la Loire, 1430-1450.
§ Lot 30. Découpée d'un Livre d'heures, une Pieta attribuée au Maître d'Adélaïde de Savoie. Nantes ou Poitiers, ca 1460.
§ Lot 44. Bifolium du Sacramentaire de saint Boniface. Fragments de calendrier (fin juillet/début novembre). Scriptorium anglais. Première moitié du VIIIe s.
§ Lot 45. Vita Christi. Vie illustrée du Christ et de la Vierge. Latin et moyen-anglais. Angleterre du nord (York?), ca 1190-1200. 106 f. 170 x 120 mm.
§ Lot 48. Les Heures d'Ashbourne. Angleterre, ca 1430.
§ Lot 51. Pierre Lombard. Libri quatuaor Sententiarum. Latin. France (Paris?), second quart du XIIIe s. 140 f. 302 x 204.215 mm.
§ Lot 52. Antiphonaire. Sud de la France, XIIIe s. 218 f. 415 x 300 mm. Communauté franciscaine. Provenance : Julien Chapée (Le Mans)
§ Lot 55. Saint Bonaventure. Commentaria in quatuor libros sententiarum. France, 1300. 81 f. 320 x 216 mm.
§ Lot 56. Bréviaire/ Antiphonaire dominicain. Arles? XIVe s.
§ Lot 57. Magnifique bréviaire de Jean de Roussay (+ avant 1418), chambellan de Louis d'Orléans. 2 volumes. Paris ca 1400. 693 f. 205 x 136 mm. 47 miniatures. Au f. 336v du vol. I: \"Istud breviarium pertinet nobilissimo domino domino J. de roucoyo camibellario illustrissimi principi domini nostri regis francie et domini aurelianensis fratris sui\".
Armes : de gueules à trois merlettes d'argent posées en orle ; au franc-quartier d'hermine. Jean de Roussay s'unit à Jeanne de Chepoy en 1390, et demeura en la rue Saint-Pol à Paris , dans un hôtel particulier acquis en 1418 par Charles VI pour l'agrandissement du logis royal. Voir entre autres Humbert Jacomet, Saint Jacques : une image à la française, dans Saint Jacques et la France, Paris, Cerf, 2003, p. 202sq.
Par la suite le bréviaire fut en possession de Jean d'Armagnac, évêque de Castres (1440-1493), fils de Bernard d'Armagnac et de Eléonore de Bourbon, comtesse de Castres. Il était le frère de Jacques, duc de Nemours, bibliophile distingué. Cf. Ch.Samaran, De quelques manuscrits ayant appartenu à Jean d'Armagnac – L. Delisle, Note complémentaire sur les manuscrits de Jacques d'Armagnac, dans Bibliothèque de l'école des chartes, 66, 1905, p. 246sq.
§ Lot 48. Livre d'heures de Jean du Chastelet d'Amiens. 127 f. 157 x 102 mm. Au f. 1: \"Ces p(re)sentes heures sont a Jeha(n) du chastelet qui les treuve se lui es rende et il donna le vin Lesquelles furent par achevees a amiens le VIe io(ur) de Juing Lan mil cccc iiiixx et xiii de sa main\".
Jean du Chastelet, écuyer, seigneur du dit lieu (près d'Aire, en Artois), de Fuffoy et de Coulomby, épousa Jeanne de Fleschin, de la maison de Flandres, fille de Raoul de Fleschin, chevalier, seigneur de Journy, du Hamel et Serny. Jean était le fils de Jacques du Chastelet, écuyer, seigneur dudit lieu et de Coulomby, capitaine d'Oisy en 1460, et de Jeanne de Conty. Jacques avait épousé 1°) le 25 juin 1459, Jeanne de Sains; 2°) le 14 mars 1460, Jeanne de Conty. Cette famille fut maintenue sur preuves par l'intendant Bignon, le 11 janvier 1706. Alliances : Belleforière, Caumesnil, Conty, Fléchin, La Chaussée, Moyencourt, Presteval, Proissy, etc. Armes: De gueules, à la fasce d'argent, accompagnée de trois tours d'or (supports : deux lions d'or couronnés). . Elles se trouvent sur la reliure de ces heures. Sources: Armorial d'Artois et de Picardie, généralité d'Amiens, par M. Borel d'Hauterive, archiviste paléographe, Paris, 1866, in-4°, p. 434; Extraits des archives de Malte, ouvrages généalogiques, manuscrits …, Gand, 1855, p. 14.
§ Lot 60. Livre d'heures à l'usage d'Angers. Angers, Rouen, ca 1455-1465. Enluminé pour Jean de Hangest (+ 1490) et Marie d'Amboise, sa femme, soeur du cardinal Georges d'Amboise. Maître de Jeanne de Laval, exerçant à Angers.

(c) Sotheby's
Note: (1) Vallet de Viriville, Isabeau de Bavière, reine de France. Etude historique, Paris, 1859, p. 20sq.

SOTHEBY'S
34-35 New Bond Street
London W1A 2AA
Tel: 44 20 7293 5000
Fax: 44 20 7293 5989
Site web [Lien]
A noter qu'un Livre d'heures à l'usage de Besançon a été retiré de la vente Alde du 12 novembre 2007:
Heures à l'usage de Besançon. Parchemin. 111 f. 230 x 172 / 75 (107 x 77 mm). 15 longues/page; règlure encre rouge. 18 (f. 1-8), 25 (4 + 1) un feuillet blanc ajouté entre le calendrier et le début des Heures (f. 9-13), 38 – 148 (f. 14-109), 152 (f. 110-111).
Réclames. Reliure italienne XVIIe s.
f. 1-12v. Calendrier discontinu, en français. f. 14-57 : Heures de la Vierge, à l'usage de Besançon. Matines (f. 14-23v), laudes (f. 24-34), prime (f. 34v-38), tierce (f. 38v-41v), sexte (f. 42-45), none (f. 45v-47v), vêpres (f. 48-52v), complie (f. 53-57).
f. 57v-60v : Heures de la Croix.
f. 61-65 : Heures du Saint Esprit.
f. 65v-83v : Psaumes de la pénitence, avec litanies (f. 77-82v).
f. 84-92v : Office des morts, à l'usage de Besançon (3 leçons). f. 93 : Evangile de saint Jean.
f. 94 : Sensuiguent (sic) les sept vers de saint Barnard.
f. 96v : Oroyson de nostre dame : Salue mater dolorosa.
f. 98v : Oroyson a Marie Magdelene : O Marie Magdelene qui deuant Dieu plora.
f. 99 : Oroyson de nostre dame. Obsecro te (forme masculine).
f. 102v : Oroyson de nostre dame : O intemerata (forme masculine).
f. 105 : Oroyson moult belle a Iesu Crist. Aue salus mundi uerbum patris.
f. 106 : Oroyson de nostre dame. Virgo dulcis virgo pia / Dei mater o Maria.
f. 106v : Oroyson de la crois. Crucem tuam adoramus et veneramur.
f. 107v : Oroyson. Ave sanctissimum preciosissimum omnipotens et misericors corpus Domini.
f. 108 : Oroyson. Anima Christi sanctifica me.
f. 108v : Oroyson de saint Christofle. Glorieux saint de grant valeur.
f. 109 : Oroyson de saint Claude. O desolator consolator captivorum liberator (la fin manque).
f. 110 : [De saint Sebastien (le début manque)] Oroyson. Omnipotens sempiterne Deus, qui precibus et meritis beati Sebastiani martiris.
f. 110 : De saint Anthoine. Vox de celo Anthonium facta est… Oratio. Deus qui nos concedis obtentu beati Anthoni…
f. 111 : (texte barré, sans rubrique, ni initiale).
Liturgie de Besançon: saint Ferrëol et saint Ferjeux (ou Fargeau) : 30 mai, translation des deux saints ; 16 juin (en rouge); dédicace de Saint-Estienne, cathédrale de Besançon (10 octobre); les évêques de Besançon: saints Claude (6 juin), Antide (en rouge, le 17 juin), Désiré (27 juillet), Donat (7 août), Germain (11 octobre) et Renebert (24 octobre) Litanies : Etienne, Agapite, Ferrëol, Ferjeux, Epyphane, Ysidore, Germain, Antide … Vincent, Nazaire, Léger, Lazare, Mammès, Gengulphe, Cimphorien, … Hyrénëe (sic) et ses compagnons, Julien et ses compagnons, Quintin. Parmi les martyrs : Martin, Désiré, Donat, Ysidore … Nicholas, Alexis, Augustin …, Claude, … Brigitte. – Suffrages : saint Claude, entre autres.
Décoration: 11 grandes miniatures, sans doute d'un atelier local.
Provenance: le manuscrit a servi de Livre de raison, mais les inscriptions marginales sont inutilisables car elles ont été soigneusement grattées.

Sources: Catalogue de la vente, en ligne sur le site de la maison Alde
[Lien]
A la vente de Christie's du 14 novembre 2007, à noter: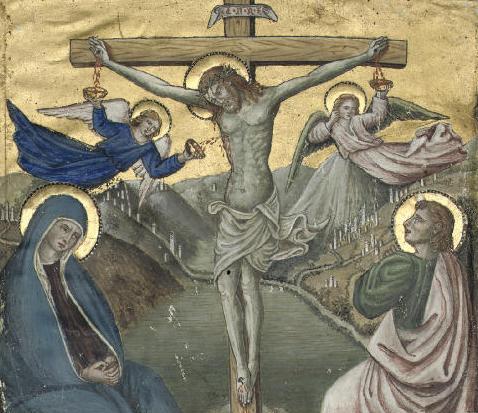 Lot 7: Christ en Croix. Umbria, ca 1470. (c) Christie's
Lot 9 : Bible sur vélin [France, probably Paris, 1220s] 217 x 140 mm. i paper + i + 340 f. Décoration par le Maître Alexandre.
Lot 10 : Book of Hours, in Latin, use of Bayeux [Bayeux, c.1415 and c.1430-40] 180 x 130 mm. i + 175 + i f.
Lot 11 : Book of Hours, use of Utrecht, in Dutch [Utrecht, c.1425] 151 x 115 mm. 218 f.
Lot 12 : Temporal breviary with psalter, for the use of Le Mans, in Latin [France, mid-15th century] 147 x 110 mm. 235 f. . Ex-libris : j'apartien a françois ; Japartien à françois peuvret, f.16v, 137.
Lot 13 : Office Book, in Latin [likely Albi, second half 15th century] 265 x 175 mm. 112 f. Aux dominicains d'Albi.
Lot 14 : Pontifical, use of Rome, in Latin [north-east Italy, c.1470] 165 x 114 mm. 103 f.
Lot 15: Book of Hours, use of Utrecht, in Dutch [Arnhem, 1470-80] 143 x 107 mm. ii + 181 f.
Lot 16 : Book of Hours, use of Rome, in Latin with added devotions in Dutch [southern Netherlands, c.1475] 193 x 130 mm. 142 f.
Catalogue en ligne sur le site de Christie's [Lien]
Pierre Bergé & Associés nous proposent pour le mercredi 7 novembre 2007 une vente exceptionnelle réalisée autour d'un ensemble remarquable de « coffrets de messagers » de la collection Marie-Thérèse et André Jammes. L'expert en sera Arsène Bonafous-Murat.
La documentation fait défaut concernant ces « coffrets de messagers », boîtes en bois, recouvertes de cuir et renforcées de bandes de fer. Elles pouvaient contenir des lettres, ou des livres. On en recense à peine une centaine, dont 14 à la Bibliothèque nationale de France, et 5 à l'Ecole nationale supérieure des Beaux- Arts. L'intérêt de ces objets est aussi de conserver une image placée à l'intérieur des couvercles, images le plus souvent pieuses.

(c) Photo Pierre Bergé & Associés
Parmi ces illustrations plusieurs appartiennent à un cycle de gravures dues au Maître des très petites Heures d'Anne de Bretagne. Ainsi cette Nativité (lot 17), gravée à partir de la grande Passion (500 x 352 mm), dont une épreuve unique se trouve à la BnF.
La Nativité. Fin du XVe s. Paris. Bois gravé, 164 x 231 mm. Epreuve coloriée au patron en rouge, violacée, rose, bleu vert et jaune. Collée dans le couvercle d'un coffret 220 x 330 x 150 mm.
(c) Photo Pierre Bergé & Associés
Sept scènes de cette suite (qui en comptait 12) ont été retrouvées à ce jour. Tous ces bois sont d'une extrème rareté, exceptée cette Nativité dont on a recensé 12 épreuves, neuf collées dans des coffrets de même type.
En dehors de ces coffrets de messagers d'autres images seront proposées à la vente. L'Entrée du Christ à Jérusalem (lot 38) fait partie de la série du Maître des très petites Heures d'Anne de Bretagne, seul exemplaire connu. A noter aussi le lot 41, un Saint François d'Assise, ca 1490-1500, 247 x 320, dont deux versions sont connues. Ces deux images proviennent de coffrets.
A signaler (lot 33) un missel manuscrit rédigé vers 1470 à l'usage d'Olmutz avec une reliure d'époque en veau brun sur ais de bois, ornée de fers à froid d'aigles bicéphales et de licornes. L'addition d'une série de saints montrent que l'ouvrage fut adapté à l'usage du diocèse de Salzbourg ou de Ratisbonne. 210 f. (sur 218). Insertion d'une gravure sur bois de la Crucifixion (ca 1475-1485)
catalogue et résultats de la vente sur le site de Pierre Bergé & Associés [ lien ]
Catalogue de la vente, format pdf
[ lien ]
Selon le marquis de Léon Laborde :
Boiste aux lettres. Petit coffret dans lequel on plaçait les lettres que le messager, dit à boiste, l'écuyer ou tout autre envoyé portait à destination.
1352. Pour faire et forgier la garnison d'argent pour une ceinture et une boiste à porter lettres, laquelle ceinture et boiste, mondit seigneur le dauphin commanda faire au dit Jehan le Brailler, orfèvre, pour Raoullet le Singeter, son messager, et y entra surtout vjm iiij ° un esterlin ob. d'argent, et x esterlins d'or fin à dorer, laquelle garnison de la dicte ceinture fut faicte de clos d'argent moitié rons, moitié quarrez, et dedens yceulz avoit esmaux des a(r)mes de Monseigneur …
1455. Le Roy d'armes d'Anjou à Jehan de Saintré : Le matin, après la messe ouye, je revins en mon logis et vesty vostre cocte d'armes, ainsi que mon droict estoit, et mis la boite, où vostre lectre d'armes estoit, en mon saing, puis par le varlet de l'hostel me fist conduire au palais du roy. (Ant. de la Salle.)
Le poète Eustache Deschamps fut lui-même messager du roi Charles V :
Près d'un an que je sui messagier,
Et que toudis ay la boiste porter
Lettres aussi, pour 11 cens frans.
Autres témoignages de ces \"boistes à lettres\":
… mises pour dons faits aux messagiers à boiste du roy nostre sire, en ceste année, lesquels, quand ils ont passé par Noyon, ont eu chascune fois XII deniers… » Compte de l'Hôtel-de-Ville de Noyon, pour l'année 1387 (Amans-Alexis Monteil, Histoire des Français, Notes, p. 12)
Compte de 1397. Boites des messagers de la ville (de Tournai). — A Ghiselin Carpentier, orfèvre, pour le salaire de se paine et traveil d'avoir refait, reclaué, rebruné et rappareillié les boites des messagiers de la ville et y avoir mis a pluiseurs fois demy onche d'argent ou environ, tant en claux comme a refaire les castelles et autrement depuis le terme de viij ans passés, et mesmement d'avoir refait le tourielle de la boiste de Sandrart le Cuvelier, l'un desdis messagiers, qui estoit rompue. . . xxx s. (Bulletin de la Société Historique et Littéraire de Tournai, 5, 1858, p. 115)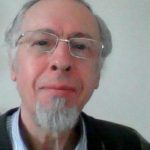 Pages
Categories
Visites depuis 10/03/2020
Evangeliaire breton (Boulogne-sur-Mer, BM, ms 8)