Voir les articles dans "Call for papers"
Le volume 17 de PECIA. LE LIVRE ET L'ECRIT (ISSN 1761-4961), publié par les éditions Brepols, à paraitre en 2016, fait appel à contributions et recevra toutes études relatives aux manuscrits sur la période médiévale. Date limite des sujets : 30 avril 2015 ; des textes : 31 janvier 2016. Langues utilisées : Français, Anglais.
PECIA. LE LIVRE ET L'ECRIT (ISSN 1761-4961), published by Brepols, is now accepting submissions for volume 17, which will be published in 2016. We are interested in all topics related to the study of medieval manuscripts. Deadline for titles/abstracts: 30 April 2015; full texts due 31 January 2016. Articles may be written in English or French.
Contact : Jean-Luc Deuffic : pecia29@orange.fr
http://www.pecia.fr/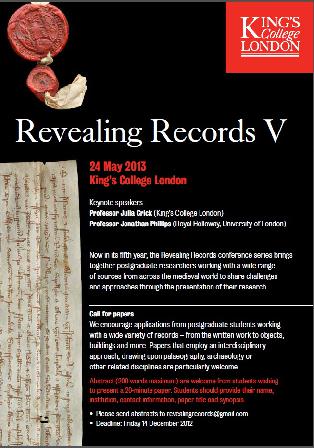 24 May 2013
King's College London

Keynote speakers :
Professor Julia Crick (King's College London)
Professor Jonathan Phillips (Royal Holloway, University of London)
Now in its fifth year, the Revealing Records conference series brings together postgraduate researchers working with a wide range of sources from across the medieval world to share challenges and approaches through the presentation of their research.
Call for papers :
We encourage applications from postgraduate students working with a wide variety of records – from the written work to objects, buildings and more. Papers that employ an interdisciplinary approach, drawing upon palaeography, archaeology or other related disciplines are particularly welcome.
Abstract (200 words maximum) are welcome from students wishing to present a 20-minute paper. Students should provide their name, institution, contact information, paper title and synopsis.
• Please send abstracts to revealingrecords@gmail.com
• Deadline : Friday 14 December 2012
La Société Internationale des Médiévistes de Paris (IMS-Paris) sollicite l'envoi de propositions de communications et de thèmes de sessions complètes pour son colloque 2008 portant sur le sang dans la France médiévale.
Nous encourageons les propositions de communications provenant de disciplines variées, comme l'anthropologie, l'histoire de l'art, les études littéraires, les « gender studies », l'histoire, l'histoire de la médecine, l'histoire des sciences, la linguistique, la musicologie, la philosophie; les sciences religieuses, la théologie, l'histoire du développement urbain…
Les résumés de moins de 300 mots pour une communication de 20 minutes devront être adressés par courriel à contact[at]ims-paris.org au plus tard le 15 janvier 2008.
L' IMS-Paris est une association interdisciplinaire et bilingue (français-anglais) créée pour servir de centre pour les médiévistes qui effectuent des recherches, travaillent, étudient ou voyagent en France.
The IMS-Paris is an interdisciplinary and bilingual (French/English) organization founded to serve as a centre for medievalists who research, work, study, or travel to France.
Pour plus d'informations sur l'IMS et le calendrier du colloque de l'an passé, merci de consulter notre site internet
[Lien]
Anna Russakoff, Ph.D.
France Director, International Medieval Society – Paris
Department of Art History and Fine Arts
American University of Paris
31, avenue Bosquet 75007 Paris (FRANCE)
arussakof[at]aup.fr
Early Music Editing: Principles, Techniques, and Future Directions
Utrecht University, The Netherlands
3-5 July 2008
Keynote speaker: Dr. Margaret Bent (All Souls College, Oxford)
Program committee: Marnix van Berchum, Theodor Dumitrescu, Eric Jas, Karl Kügle, Rudolf Rasch
In the study and performance of pre-Classical western music, few elements fluctuate so rapidly as fashions in the interpretative and presentational aspects of music transcriptions. Often unspoken and unscrutinized editorial decisions play a key role in shaping the modern reception and understanding of early repertories. With the advent of significant new technologies changing the face of publishing across the entire globe, the time is ripe for a critical reevaluation of the principles and assumptions which inform the creation and distribution of early music scores for modern readers.
Proposals on any aspect of edition-making and transcription regarding repertories up to c. 1750 are welcome, including but not limited to: music philology and the status of textual criticism; lessons from past and current edition projects; impact on performance and analysis; editing and music pedagogy; the role of information technology and digital media in music editing.
Paper length: 30 minutes
Proposals for round tables and special sessions/workshops are also welcome.
Proposal deadline: 1 February 2008
Abstracts: Please send abstracts of no more than 250 words, including title, author name, and affiliation/location, either via e-mail to EditingConference_at_cmme.org or via post to:
Dr. Theodor Dumitrescu
Universiteit Utrecht
Kromme Nieuwegracht 29
3512HD Utrecht
The Netherlands
Pages
Auteur du blog : Jean-Luc DEUFFIC
Visites depuis 10/03/2020
Evangeliaire breton (Boulogne-sur-Mer, BM, ms 8)