Voir les articles dans "Exposition"

PARIS, BIBLIOTHEQUE NATIONALE DE FRANCE : NOUVEAU PORTAIL dédié au département des manuscrits : informations relatives aux collections, catalogues, outils de recherche et renseignements pratiques, actualité du département des manuscrits (flux RSS).
http://bnf.libguides.com/manuscrits
COLLOQUE : Journée de Lille – 16 octobre 2014, IRHiS, salle de séminaire A1-152 // Journée de Rennes – 27 novembre 2014, CELLAM/CETM, salle de séminaire :
Merveilleux, marges et marginalité dans la littérature et l'enluminure profanes en France et dans les régions septentrionales (XIIe-XVe siècles)
Programmes (PDF)
INTERNET : Robert D. Peckham : Manuscript and Print Sources of the Text of François Villon's Works
http://www.utm.edu/staff/globeg/villonmss.shtml
BASE : Staatsbibliothek à Berlin : cotes des 23000 mss avec indication des mss numérisés …
EXPO : Chantilly, Bibliothèque et Archives du Château (6 novembre – 9 décembre 2014) : La Passion du Prince. Enluminures italiennes de la collection du duc d'Aumale
PUBLICATION : Claude LECOUTEUX, Dictionnaire des formules magiques. Edit. Imago.
EN LIGNE : Manuscripts on My Mind (N° 13, septembre 2014) : http://libraries.slu.edu/files/special_collections/newsletter-no-13-large.pdf
CALL FOR PAPERS : Écrire à l'ombre des cathédrales : pratiques de l'écrit en milieu cathédral (espace anglo-normand et France de l'Ouest – XIe-XIIIe siècle), Colloque international, Centre Culturel International de Cerisy-la-Salle (Manche), du 8 au 12 juin 2016\". Propositions and abstracts to be sent in by the May 30th, 2015. Text of the CfP at: http://www.unicaen.fr/crahm/spip.php?article795
COLLOQUE : 7th Annual Lawrence J. Schoenberg Symposium on Manuscript Studies in the Digital Age (November 6-8, 2014)
BASE : A complete list of the 1111 digitised manuscripts of the British Library, updated to 9.10.2014
COLLOQUE : Understanding the Medieval Book 2015 : A Seminar with Dr. David T. Gura, Univ. of Notre Dame
On Monday and Tuesday 13-14 April 2015, the University of South Carolina will host its fifth annual "Understanding the Medieval Book" symposium on its main (Columbia) campus. The clinician will be Dr. David T. Gura (PhD, Classics, OSU), Curator of Manuscripts at the University of Notre Dame. Gura will focus on the art of analytical manuscript description, especially for Books of Hours and bibles. He will also deliver a public lecture entitled "A Broken Book: The Reconstruction of a Book of Hours from Medieval Brittany." The seminars are free, but space is limited to 25 participants. Further information and an application packet can be found here (submission deadline 15 January 2015): https://dl.dropboxusercontent.com/u/71591396/Understanding%20the%20Medieval%20Book%20Gura.doc
EXPO : New York, The Morgan Library and Museum ( 17 octobre 2014 – 4 janvier 2015) : The Crusader Bible: A Gothic Masterpiece. http://www.themorgan.org/exhibitions/Crusader-Bible
Dans le cadre du cinquième centenaire de la mort d'Anne de Bretagne, la Bibliothèque municipale de Nantes propose plusieurs manifestations dont certaines consacrées aux manuscrits de la reine et duchesse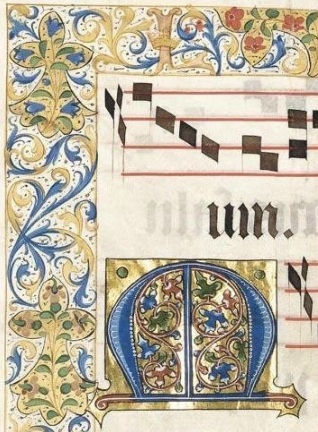 Qu'elle les ait commandés et possédés ou qu'ils commémorent ses funérailles, les manuscrits enluminés sont partie prenante de l'héritage d'Anne de Bretagne. Plusieurs d'entre eux font aujourd'hui partie des collections de la Bibliothèque municipale. Le 500e anniversaire de la mort de la reine et duchesse et les journées du Patrimoine sont l'occasion de les faire mieux connaître.
Avec le soutien de la Direction régionale des affaires culturelles des Pays de la Loire – Médiathèque Jacques Demy
/// À voir et à toucher
Présentation sur table tactile de quatre des plus précieux manuscrits des collections de la Bibliothèque municipale sous forme numérisée : un livre d'heures d'Anne de Bretagne, le récit des funérailles de la reine par son héraut d'armes Pierre Choque, un recueil de poésies et une copie de l'acte organisant la chancellerie de Bretagne. Pour découvrir de manière ludique et interactive la vie et l'influence de la dernière reine du XVe siècle, et son amour des beaux livres. Espace Patrimoine
/// Sortie de réserve
Exposition de documents patrimoniaux sur Anne de Bretagne et son époque. Présentation du fac-similé du reliquaire du coeur d'Anne de Bretagne (prêt exceptionnel du Musée d'histoire de Nantes à partir du 7 octobre). Du 20 septembre au 8 décembre
/// Les livres d'Anne de Bretagne
Conférence par Maxence Hermant, conservateur au département des Manuscrits de la Bibliothèque nationale de France.
Anne de Bretagne collectionna les manuscrits et les imprimés les plus précieux. Cette conférence vous propose de (re)découvrir ces trésors dispersés samedi 11 octobre à 15h Salle jules Vallès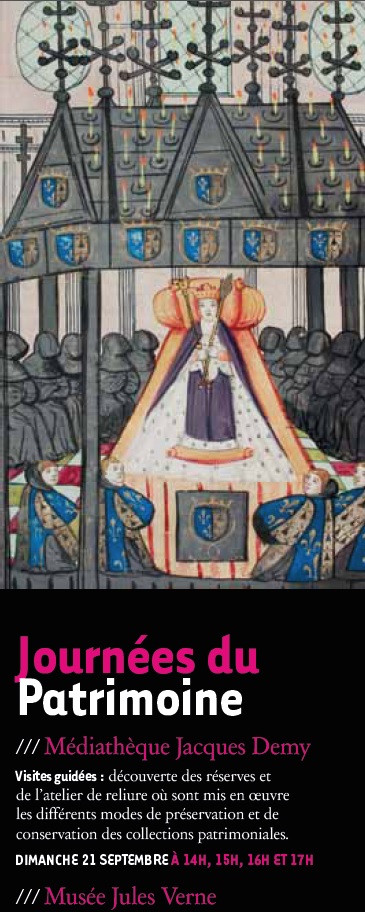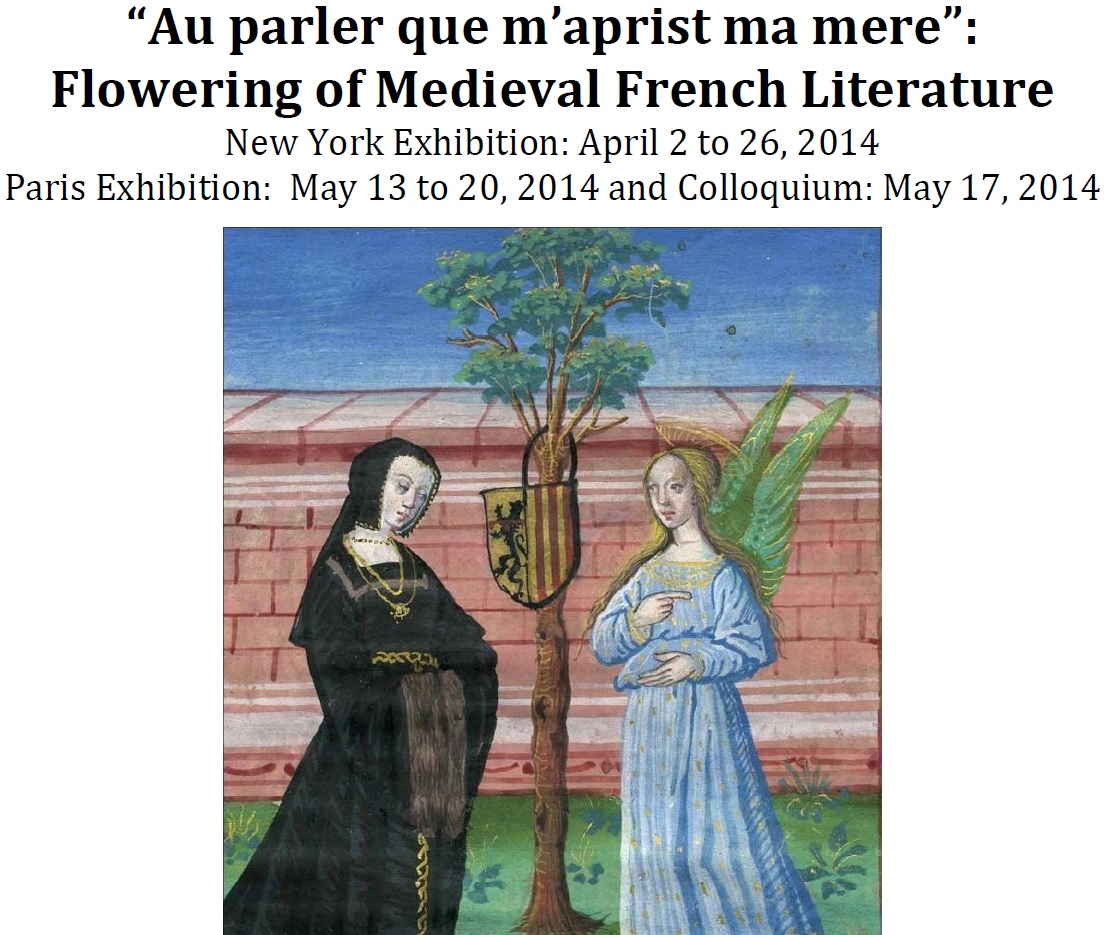 Presenting a "new" history of medieval French literature based largely upon the impact of historical and social phenomena, scientific advancements, and linguistic and cultural singularities, Les Enluminures' comprehensive project (exhibition, catalogue, and colloquium) centers on a group of manuscripts written in the French language between c. 1300 and c. 1550. While the earliest written records date from the ninth century, French was not widely used until the 13th- century. Many factors influenced the shift from Latin to the "mother tongue." The change from an agrarian- to a commercial–based economy throughout towns and cities imposed a need for the middle class to understand each other both in written and spoken forms. The centralization of French government and the rise of a nation state under King Philip Augustus (reigned 1180-1223) dictated a need for a language through which the court and the nobles could wield power far and wide. Not surprisingly, women played a pivotal role in the rise and evolution of medieval French, as they began to forge a place for themselves within a literary canon. Male writers increasingly chose to feature women, which constituted a devoted audience for their works of literature and theology. As a result of these efforts, French was well established as the language of literature, historical record, and personal expression by the 15th- century.
The exhibition explores these instrumental developments thematically, culminating with a section on manuscripts in the age of print culture, as technological proved to be decisive factor in the rapid advancement, adoption, and standardization of the "mother tongue." Whereas, in 1501, only 10% of books published in Paris were in French, by 1575, 55% of all books published in Paris were in French. The triumph of the French language over Latin was thus virtually complete by the end of the 16th-century.
Rather than grouping works by genres or periods, the exhibition is organized in sections as follows:
I. Literature and Science: the Rise and Affirmation of the Vernacular; II. Philosophy, Theology, and Mirror of Princes: Translations and Adaptions of the Classics; III. History and Genealogy: the Nation and the Individual; IV. Women Writers and Women Bibliophiles: Memory and Self-Assertion; V. From Manuscript to Print: the Circulation of Texts and the Triumph of the French Vernacular.
The title of the exhibition is taken from a quote from Jean de Meun, one of authors presented in the exhibition, who with Guillaume de Lorris wrote the celebrated Roman de la Rose. In c. 1325, Jean described writing in French as "speaking as I learned from my mother," or "speaking in my mother tongue."
Mostly illuminated, the manuscripts on view encompass a wide variety of subjects ranging from literature and science, to philosophy and theology, and history and government. So rare are illuminated manuscripts in the French language of this period that this project would not be possible without the purchase of a substantial group of previously unpublished manuscripts from the Collection of Joost R. Ritman, founder of the Bibliotheca Philosophica Hermetica.

Exhibition Catalogue
Published in full color, the accompanying scholarly catalogue will include detailed descriptions on the works presented within the exhibition, along with comparative material, a preface, an introduction, and an extensive bibliography. In conjunction with the accompanying exhibitions and the colloquium, the catalogue contributes to the ongoing re-evaluation of medieval literary and art history by examining the complex relationships between text and image in manuscripts as reflections of communal and individual identity and as testaments to the dynamic intersection of literature and art. Catalogue sections will shed new light on many of the exhibition's themes; and also serve as session titles for the Paris colloquium.
Paris Colloquium
A study day or colloquium is planned for Saturday, May 17, 2014 at the Institut National d'Histoire de l'Art (INHA) with talks encompassing themes explored within the exhibition along with new research related to the rise and affirmation of the French language in the production of literary manuscripts from c. 1200 to 1550.
Press Contact : Cecilia Bonn, e. cbonn@nyc.rr.com, t. 212 -734-9754
PROGRAMME DU COLLOQUE
9h50 Introduction, Sandra Hindman, professeur émérite d'histoire de l'art, Northwestern University, et Galerie Les Enluminures (Paris, New York et Chicago)
Littérature et sciences : essor et affirmation du français
10h10 Géraldine Veysseyre, responsable du Projet Européen OPVS (Old Pious Vernacular Successes), IRHT, Paris, et maître de conférences, Université Paris-Sorbonne
Le Pèlerinage de vie humaine mis en recueil : anthologies vernaculaires et bilingues
10h30 Thomas Le Gouge, doctorant en histoire de l'art, Université de Bourgogne, eten philosophie, TU Dresden
Tradition manuscrite, tradition schématique : l'Image du monde de Gossuin de Metz
11h00 Pause
Bibliothèques et circulation des textes en français
11h30 Patricia Stirnemann, chercheur émérite IRHT, Paris
Le mot court : la bibliothèque de l'écrivain
11h50 Maxence Hermant, conservateur, Département des manuscrits, Bibliothèquenationale de France, Paris
Les traductions manuscrites en français réalisées pour François Ier
12h10 Discussion
12h30 – 13h45 Pause déjeuner
Femmes écrivains et femmes bibliophiles : mémoire etaffirmation de soi
14h00 Introduction, Anne-Marie Legaré, professeur d'histoire de l'art médiéval, Université Lille 3
14h20 Elizabeth L'Estrange, maître de conférences, University of Birmingham
Anne de Graville et son "livre d'amour": les Histoires Chaldéennes de Bérose
14h40 Mathieu Deldicque, archiviste-paléographe, conservateur du Patrimoine, Service des musées de France, Ministère de la Culture et de la Communication
Lire le français à la cour de Claude de France. Nouveaux éléments sur Anne de Graville et sa bibliothèque
15h00 Ariane Bergeron, archiviste-paléographe (Ecole des chartes), co-auteur du catalogue « Flowering of Medieval French Literature », 2014
Toy noble candelabre et lucerne rutilante noumé Boece Avice Manilhe : Catherine d'Amboise (c. 1482-1550), lectrice de Boèce
15h20 Discussion
15h45 Pause
Du manuscrit à l'imprimé : circulation des textes et persistance du manuscrit en français
16h15 Introduction, Sandra Hindman
16h30 Sylvie Lefèvre-Le Goff, professeur, Université Paris-Sorbonne et Columbia University, New York
Guillaume Alexis entre manuscrits et imprimés. L'exemple du Passe-temps de tout homme et de toute femme
16h50 Delphine Mercuzot, conservateur, Département des manuscrits, Bibliothèque nationale de France, Paris
La pénitence d'Adam de Colard Mansion : un texte rare à l'heure de la diffusion en série
17h10 – 17h30 Table ronde
18h00 Visite de l'exposition «Flowering of Medieval French Literature» et cocktail (Galerie Les Enluminures, 1, rue J.J. Rousseau, 75001, digicode 1964)
RESERVATION (OBLIGATOIRE) : info@lesenluminures.com ou +33 (0) 1 42 60 15 58.
CONTACTS
Charlotte Stovell : info@lesenluminures.com
Sandra Hindman : sandrahindman@yahoo.com
Ariane Bergeron-Foote : abergeron2002@yahoo.fr
+33 (0)1 42 60 15 58 ou +33 (0)7 8152 15 44
Pages
Categories
Auteur du blog : Jean-Luc DEUFFIC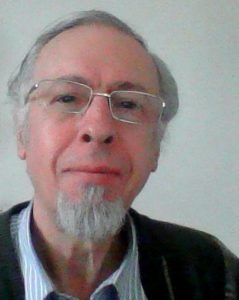 Visites depuis 10/03/2020
Evangeliaire breton (Boulogne-sur-Mer, BM, ms 8)